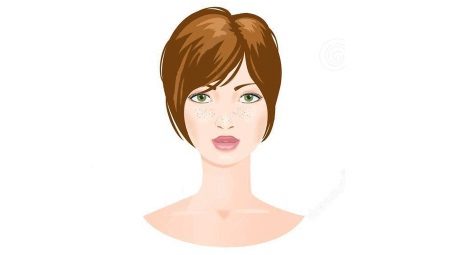 A girl representative of the autumn color type is not difficult to notice, as she often looks luxurious, bright and charismatic. Like the spring type, Autumn is a warm group, but it also has a reddish nuance, due to which its colors are more complex, dark, deep and intense.
Color Type Features
"Autumn" beauties usually have smooth and dense skin, which has a warm undertone. Redness and other minor flaws on it almost do not appear. The skin tone is represented by a large range from pink and golden beige to light chestnut or tan peach.
Freckles are one of the frequent "companions" of girls of the "autumn" type, while they are of red or reddish-brown hue. But the blush on the cheeks of a girl of this type can be seen very rarely. If it appears, it is represented by a delicate shade of peach.
Light-skinned "autumn" beauties quickly burn in the sun, and girls with darker skin tones get a rather lasting tan during sunbathing.
The shag of the "autumn" beauty is often quite voluminous, often represented by curly hair. The palette of hair shades of representatives of this type is very extensive. Red, copper (light brown or light shade), chestnut (golden undertone), dark brown (red outflow) and bronze color are marked in it.
Gray-haired girls of the "autumn" type appear late. In this case, the hair strands become golden yellow.
The eyes of representatives of this color type can be called radiant, glowing and bright. Their shade is mostly dark, for example, often "autumn" girls with amber-brown, golden brown or dark brown eyes are often found. However, the girl-Autumn can meet green, blue or gray eyes.
Eyebrow tint almost always corresponds to the hair shade and has a reddish or golden subtone.
Varieties
Given the dominant characteristics of the appearance of the girl autumn color type, it can be attributed to:
Real Autumn. Such a subspecies is also called the Warm Autumn, because its representatives have a warm appearance. The hair of these girls is red (dark shade) or chestnut (with a golden tone), and the eyes are predominantly brown in color, but there is also a shade of topaz. The skin is a different shade, while it is often covered with freckles.
Deep Autumn. Since the dominant parameter of this autumn-type variety is a dark appearance, the color of the hair and the eyes of its representatives will be dark. The most common are golden-brown eyes with yellow or green patches and brown hair, and the skin of these girls is often dark.
Soft Autumn. The name of the subtype is due to the fact that its representatives have a soft appearance. Their hair tint is predominantly light (golden or warm brown), as is the eye color. The most common hazelnut and light brown eyes, while they often seem to be covered with haze. The skin tone in these girls is often dim and rather soft.
Typical representatives
By the autumn color type include:
Drew Barrymore;
Misha Barton;
Marcia Cross;
Gisele Bundchen;
Ashley Olsen;
Katie Holmes;
Fergie;
Carmen Electra;
Eva Mendez;
Jennifer Lopez;
Lindsey Lohan;
Julianne Moore;
Jessica Alba;
Natalie Portman;
Sophia Vergara.
How to choose a wardrobe?
In the clothes of the girl-Autumn is best to combine rich, rich and intense colors. The priority is a brown palette, on the basis of which it is worth creating a basic wardrobe. In the clothes of brick, cinnamon, coffee, copper or rust-brown shade "autumn" women look the most impressive.
The best companion to the brown range for the wardrobe of the girl Autumn will be green. In this case, preference is given to dark shades, for example, khaki, bottle or mossy-green.
Looks good on "autumn" women and red, especially, tomato, cherry, dark salmon, copper red or terracotta reddish tone. A blue and purple palette will help make the outfit more status. A good choice would be to use shades of plum, blackberry or lingonberry.
If you want to add things of beige or gray color to Autumn's wardrobe, select complex shades, including yellow subton.
"Autumn" girls can use pastel colors for underwear, sundresses, T-shirts or tops, and they should be darkened (as if caramelized). A good choice is clothing cream, shell, apricot, dark cream or vanilla hue. The tones of warm marble, newsprint, creme brulee, champagne or sea foam are also suitable for the girl-Autumn.
For a walk with friends, a sport or a party, the "autumn" girl can safely choose bright, dynamic, vibrant colors. Carrot, strawberry, beet, amethyst, orange, fire or eggplant clothing will provide the most spectacular look. A good choice can be called shades of young peas, aqua, thuja or drake head.
It is advised to avoid the cold colors of "autumn" girls, as in such clothes the look of the Autumn woman will be overwhelming. It is also not necessary to dress in pure tones of black and white.
The best fabrics for the wardrobe of "autumn" women are voluminous, dense, plastic, textural and soft materials. Autumn Girl should prefer tweed, velvet, suede, corduroy, angora, wool, as well as thick variants of velor and silk. Beautifully looks on the representatives of the autumn tsvetotipa boucle and lace fabric. Durable types of cotton and flax are preferred for summer clothes.
If there is a pattern in the clothes of the "autumn" girl, then the choice should fall on the drawing of deep warm shades with notes of exotic and fantasy. Autumn Girl unusually has an ethno-pattern, a vegetable and leopard print, a chicken foot (a warm, cream-colored version) and various cage options. But the blurry and small patterns of the representatives of the "autumn" should be avoided, as well as prints, presented in cold and bright shades.
The best variant of jewelry for the girl-Autumn is products of medium or large size with an interesting design and many small details. Among metals, products made of brass and copper, as well as red gold and bronze are preferred. Among the stones advise jewelry with topazes, corals, agate, onyx or amber. A good choice is also called jewelry made from natural materials, such as leather, shells, beads, straw or wood. Silver jewelery, white gold, and stones with a cool shade should be avoided.
A bag and shoes for Autumn girls are advised to choose from thick leather, nubuck or suede. A wicker structure is also a good option. As for the shade, it is preferable to brown, red, yellowish, earthy tone, but for the publication you can pick up something brighter. It is only important not to choose either too pale accessories or excessively flashy options from soft or patent leather.
Should I change the natural hair color?
As a rule, representatives of the autumn color type like the natural shade of their own hair, because it is rich and beautiful.
If desired, the diversity is recommended to choose paint with a reddish undertone.With the help of henna, Autumn girl will add shine and shimmer to her hair. Paint with blue pigment autumn type categorically will not work.
The subtleties of makeup to complete the image
The eyes of the girl-Autumn are so expressive that for daytime makeup she can restrict herself to a pencil or ink. The best palettes for evening make-up of the representatives of the autumn color type are green, blue, gray and brown. You can safely use the shade of golden or bronze color. Purple shades will also be a good choice, especially if the girl's eyes have a green tint. But the makeup smokay-aiz should be avoided.
Autumn girl's lipstick is advised to select an expressive, but with a warm nuance, for example, caramel, orange-red, light brown or coral. Hues such as light pink, crimson, fire, dark red or purple, are considered unsuitable.