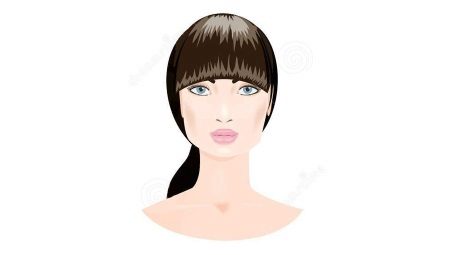 "Winter" girls look bright and can easily create a fatal or extravagant image. In terms of distribution, this color type is inferior only to Lethe, with whom he has common features, because both of these color types are referred to as cold. However, the summer type is based on a gray undertone, while in Winter it is a bright and saturated blue that seems to sparkle.
Color Type Features
Girls, representing the "winter" type, have a smooth and rather dense skin. Its shade is brown (with an olive or ashy subtone), pinkish or porcelain. There are also "winter" beauties with white-beige or beige skin.
Light-skinned "winter" girls almost do not tan, but in the presence of a dark skin tone tan is acquired quite easily and persists for a long time.
Blush on the face of a girl-Winter is a rarity. If it appears, it is represented by a cool pink shade. Freckles on the faces of representatives of this color type often do not exist.
"Winter" girls are usually dark-haired, and the shade does not change throughout life. You can meet a Winter Woman with black, chestnut, or thick black-brown hair. Also girls of winter type have hair of plum or ash-brown shade. However, occasionally there are fair-haired "winter" girls, whose hair is different in ash tint.
The gray hair appears rather quickly, while a silvery spraying appears on the hair.
Note that the eyes of the "winter" girls are always distinguished, bright and expressive, because the iris is very rich and intense against the background of pure white proteins. Its shade is rich-brown, black or dark brown. There are also girls of this color type with bright blue and blue eyes. Not uncommon and dark gray or icy green eye color.
The eyebrows of the girl-Winter always have a dark tone, even with bright hair.
Varieties
Based on the dominant appearance, the winter color type is divided into:
Cold winter This subspecies is also called the Real Winter. Its main characteristic is the presence of cold appearance. The color of the hair of such girls is dark brown and black, and light ashy shade is a rarity. Other features of this variety are considered to be an expressive skin tone and bright eyes.
Bright Winter. The appearance of the representatives of this subtype is called a contrast, because it is characterized by the presence of bright shining eyes and dark hair, contrasting with a skin tone.
Deep Winter. The girls representing this subspecies, noted a dark appearance due to dark hair (brown or black) and dark eyes (black or dark brown). The skin is quite expressive and clear.
Typical representatives
Representatives of the "winter" color type include:
Monica Bellucci;
Megan Fox;
Courtney Cox;
Holly Barry;
Liv Tyler;
Eva Longoria;
Meryl Streep;
Angelina Jolie;
Penelope Cruz;
Christina Aguilera;
Alexis Bledel;
Sandra Bullock;
Kristen Stewart;
Demmy Moor;
Zooey Deschanel;
Salma Hayek;
Jadu Pinkett-Smith;
Ann Hataway;
Elizabeth Taylor;
Jennifer Connelly;
Ditu Von Teese;
Lucy Lew.
How to choose a wardrobe?
For the basic wardrobe of "winter" girls, it is recommended to choose clothes in brown, violet, blue or gray. Cobalt, dark-violet, coal-gray, dark-chocolate or anthracite colors are called successful variants.
From the green gamut, the Winter girl should take a closer look at the emerald, azure and coniferous-green hue, and the red gamma can be represented in her clothes in a bright red, ruby, burgundy or red-brown tone.
Selecting pastel colors for sundresses, T-shirts, tops and underwear, "winter" girls are recommended to use icy tones of white, pink, lavender, blue or mint color. A good choice is the use of gray-beige and white-sand tint.
Bright shades will help representatives of the winter type to enhance the natural contrast of their appearance and play of the eyes. Girl-Winter can safely choose clothes of purple, turquoise, lemon, purple or juicy green. A good option is called shades of fuchsia, ultramarine and indigo.
In the wardrobe of the girl-Winter is appropriate pure black color and completely white. They can be worn alone, combined with each other or combined with other rich colors.
Women are advised to give up warm, muted and blurry shades of "winter" women. In clothes of mustard, brick, honey, apricot and similar colors, the appearance of the Winter girl will be lost and look painful.
Fabric for clothing "winter" women, it is recommended either smooth or textured. It should keep its shape well, and excessively soft materials are considered inappropriate. The ideal choice would be iridescent, shiny and other expensive fabric, such as organza, silk, satin, velvet. On the Winter girl, the outfits made of patent leather, hard cotton, brocade, wool and lace look great. In addition, the dark fur products are perfect for this color type.
As for the pattern on the clothes of the "winter" girl, the expressive, bright and dynamic patterns of the cold palette are preferable. The best choice will be clear lines, strict stripes, checkered print, "goose foot", abstract and futuristic motifs. Animal prints look perfect on the Winter girl, but the romantic, gentle and overly small drawings should be avoided by the representatives of the "winter" type.
Jewelery pick up shiny, sparkling and sparkling, while their colors should be cold. White and black pearls are a classic option. From stones, diamond, turquoise, onyx, sapphires, and garnet are called the best choice. Silver jewelery looks great, and gold for a winter girl needs to pick up white or lemon shades. If a girl of the winter color type wants to use bijouterie, she can advise products made of glass beads or beads, as well as jewelry with rhinestones.
Brilliant dense skin is called the best choice for bags and shoes of the girl, representing the "winter" type. Look at the products of patent leather, as well as from exotic types of such material. In this case, instead of suede is recommended to prefer accessories from nubuck. As for colors, the best option would be shoes in black or dark gray. In addition, accessories may be a bright shade, but products from thin and matte leather are unsuitable for the winter color type.
Should I change the natural hair color?
Almost all the representatives of the "winter" color type like the shade of their hair, and stylists do not advise them to repaint, especially in a reddish tone. Also an unsuccessful choice would be lightening individual strands.
If the Winter girl nevertheless intends to change the hair color, let it be a uniform dye, based on the blue color. In general, the color should not differ much from the natural.
The subtleties of makeup to complete the image
A dark gamut is recommended for the makeup of the girl Winter. A spectacular and successful choice is the use of false eyelashes, smoky makeup, as well as eyeliner.
It is possible to make lips of women of this color type lipstick a juicy and bright shade.Ideal to look lipstick is a deep purple, deep red or purple-pink tone.