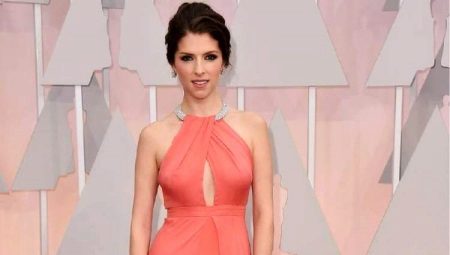 Models of dresses that have an American armhole, are feminine, festive and very romantic. This top is most often present in evening dresses and elegant blouses.
Features
American called armhole, which is a cut on the diagonal, which begins in the armpits and ends at the neck of the girl. This cutout cut allows you to leave the shoulders open.
Who is going to?
A model with such an armhole is perfect for slender girls who have small shoulders.
Some versions of dresses look good on beauties of medium build with a small chest, narrow waist and rounded hips. Closed armholes are preferred by older women, and dress models with an open back are young girls.
The dress, the top of which is represented by an American armhole, looks feminine and beautiful, but not suitable for everyone.
Such a dress should be abandoned for women whose shoulders are wide or sloping. If a girl with such a figure still wants to wear an American dress, it should be complemented with a fitted jacket or a light scarf.
Wedding dresses with an American armhole look very elegant and give the image of non-frivolous femininity, especially if the neckline is trimmed with lace or guipure.
A bit of history
For the first time, dresses with an American armhole became popular in the fifties of the 20th century, when a film with Monroe was released. The white dress of this legendary actress was liked by the public, which introduced such an armhole to the female wardrobe.
By the 90th, interest in this piece of clothing had faded, but from 2011-2012, the American armhole appeared on the runways again. Although it has changed in modern outfits, such a sexy and sensual element can now be called quite popular among well-known fashion designers and fashionistas.
Kinds
American armhole in outfits can be represented by the following options:
The model of the dress is made with an open back, but the armhole on the chest itself is closed. This is the most common type of dress with an American armhole. Such outfits look spectacular and sexy, but at the same time exquisite. In them the armhole can be emphasized with lace, golden trim, mesh and other decor. Most often, these dresses are made of chiffon and other flowing fabrics.
The frame of this type is combined with a stand-up collar. This model is a compromise option for girls who do not want to bare their backs. In a dress with such a top, the shoulders will be open. This dress is chosen for the celebration, and for the office.
The dress has a V-neckline. A cross in such a product is represented by a loop that "embraces" the neck. Such a loop can be single cut, but can also be fastened or fastened.
Tips for choosing
Before buying a dress of this style be sure to arrange fitting. You must be sure that the model fits perfectly on your figure, and all ties or fasteners are very comfortable.
Do not buy a heavy dress with an American armhole, as it will put pressure on the neck and cause discomfort.
Remember that the style is able to visually expand and emphasize the shoulders. And so the dress will be the perfect choice for girls with narrow shoulders.
If your neck is short, the best choice would be a dress with an armhole made with a V-like neckline. Picking up a model with a stand-up collar, you visually make the neck even shorter. If you have a long neck, an American dress with a stand will suit you perfectly.
What to wear?
For a cocktail and evening dress, decorated with an American armhole, it is recommended to pick up long gloves. This outfit also looks good with a palatine or with a fur cape. Also add such a dress with a clutch bag and shoes with heels or wedges.
Accessories
With dresses of this style, pendants on long chains, long earrings, small bracelets are well combined.
However, if the American dress has a V-like neckline, it is better to give up necklace jewelry.