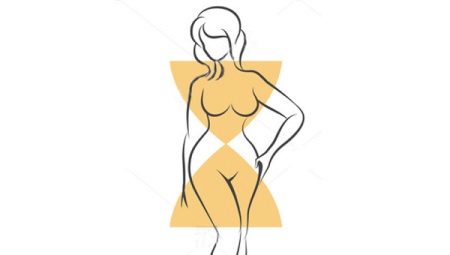 The figure, which is similar to an hourglass, is called the most feminine and very harmonious. It is believed that girls with such a build are any clothes, but there are styles that can ruin such a perfect silhouette.
Features of the figure
The main advantage of this type of figure is, without doubt, a slim waist. Its ratio is approximately 75% of the hips.
Since the upper and lower parts of a similar silhouette of almost the same volume, such a figure is also called X-shaped.
If a girl with a similar physique begins to gain weight, fat will be deposited in the lower part of the body.
Stars with this type of figure
The figure resembling an hourglass has such famous actresses:
Scarlett Johansson;
Dita Von Teese;
Brigitte Bardot;
Natasha Richardson;
Salma Hayek;
Elizabeth Taylor;
Sophia Loren;
Catherine Zeta-Jones;
Marilyn Monroe;
Naomi Campbell;
Gina Lollobrigida;
Kim Basinger;
Michelle Pfeiffer;
Monica Bellucci;
Christina Hendrix.
Suitable styles
To better highlight the advantages and advantages of a figure similar to an hourglass, it is advised to wear such dresses:
Sheath Dress It can be flared from the hips or narrowed at the bottom. In such a dress, the hourglass figure will look most beneficial. The dress is most often chosen for a festive evening, but also a similar dress is suitable for a business meeting.
Dress with a smell. It looks especially beautiful on a slim beauty with an hourglass figure. To emphasize the advantages of the figure, you can use asymmetrical drapes and revealing cleavage.
A-line dress with fitted bodice. In this outfit, a girl with an X-like figure will be able to hide a small fullness.
Dress shirt. This dress can be straight and slightly flared, it is only important to clearly define the waist, which is most often achieved using a belt.
Dresses with draperies and ruffles. Such décor elements can be on the chest (such dresses have a very feminine and sophisticated look) or on the waist line (they will not spoil the image if the waist is very thin).
Dresses with flared skirt. They must certainly have a tight-fitting top and a distinguished waist, and fabrics for such outfits will select flowing fabrics. The length of the skirt is found both in the floor and midi.
Dresses with a skirt style "pencil". Such models sit on the figure with the X-silhouette just perfect.
Consider that beauties with a figure resembling an hourglass are not advised to have baggy outfits (they will turn their figure into a "rectangle") and dresses whose waistline is slightly understated. Those girls whose lower part of the figure is not perfect should not get too tight dresses. In models with a basky or a very full skirt, the figure may resemble a pear, but this moment is purely individual.
Tips for choosing
If the girl's chest is rather voluminous, she is recommended models of dresses that have a hard corset. In these outfits, the waist will be maximally emphasized, and the bust will get the perfect shape.
Girls with small breasts are advised to pick up dresses with narrow straps or no straps at all. Also beauties with a small bust can wear outfits with an American armhole.
Choosing a model with sleeves, women with X-shaped body type should pay attention to the style of the sleeve "raglan". Models with shoulder pads and flashlights should be avoided.
On a girl with a figure resembling an hourglass, monophonic outfits look best.Multicolor dress can worsen the perception of the silhouette, so the floral and various geometric patterns of girls with this type of physique should be abandoned.
Selecting the fabric of the product, it is better to prefer feminine and soft textures. The best choice would be dresses made of flax, viscose, lightweight crepe, knitwear, silk, soft and elastic cotton, as well as knitted fabrics. Dense materials with this type of shape are considered an unfortunate option.