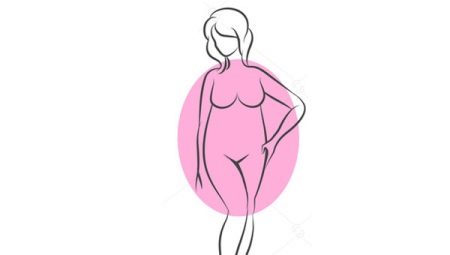 The female figure, whose outlines resemble an apple, is quite common. In choosing a dress that will sit on a girl with a similar physique most successfully and attractively, it is important to consider which styles help to hide the flaws of the "apple" silhouette.
Features of the figure
The apple shape, which is also called the O-like silhouette, is distinguished by the presence of:
Mild waist;
Wide chest;
The same width of the hips and shoulders;
Protruding belly;
Thin arms;
Pretty slender hips;
The same volume of the chest and hips;
Flat buttocks;
Long legs.
In addition, a girl with such a physique is often marked with a voluminous bust and short stature.
If a woman with a similar figure gains weight, it is deposited mainly in the abdominal area, so the silhouette of obese women looks quite hard.
That is why women with this type of figure should carefully consider the choice of clothes: successful styles can make the figure more elegant and feminine.
Stars with this type of figure
The O-type pattern is noted in:
Britney Spears;
Kelly Clarkson;
Reese Witherspoon;
Jessica Simpson;
Kelly Osbourne;
Sigourney Weaver;
Liv Tyler.
Suitable styles
Girls whose figure is similar to an apple are advised to wear:
Sheath Dress This outfit should be quite strict, without sleeves and with a straight skirt.
Dress style "A-line". It will slim, divert attention from the waist and the disproportion of the lower body. The cut of the outfit should be fitted, and the mid-thigh length skirt should be fairly fluffy.
Dresses in the Empire style. Especially in demand among the girls are "apple" models with a raised waistline. They will hide extra inches on the stomach and at the same time draw attention to the bust. These dresses are often chosen for a festive dinner or wedding.
Dress shirt. Complemented by a wide belt of leather or fabric. A good choice would be the safari style models.
Dress straight cut. You can hide a protruding belly in it and lengthen the silhouette.
Dress with a smell. In this style, cocktail dresses and casual models are also in demand.
Dresses in which the chest is emphasized. These styles include dresses with a corset and bustier dresses.
Dresses with a skirt the sun. Look good knee length models.
Models with a tulip skirt, which have a fitted top.
Tips for choosing
Do not pick an overly fitting as well as a very spacious outfit for the "apple" figure. These dresses are considered unsuitable for this type of build.
Pay attention to the fabric attire. When the figure resembles an apple, dresses made of materials that will fit the silhouette and flow freely are preferable. It can be tight knitwear or wool, but velvet, corduroy, linen and other dresses made of coarse fabric are not recommended for apple girls. The stiff and angular silhouette created by such materials will add volume.
Choosing colors, you should pay attention to plain models (purple, blue, green, brown or purple), as well as dresses with large or vertical print. Girls with an O-like figure wear outfits with an abstract pattern or a medium-sized floral print. A good choice can also be called prints such as oblique cells and vertical stripes.
On the neckline with this type of body you should not overly emphasize. The cut should be moderate. A good choice would be a model with a V-neck. In such a dress, the waist will be visually thinner.
When choosing a dress with sleeves, avoid "flashlights" and other voluminous styles, as well as the use of shoulder pads. The best choice would be a dress whose sleeve is missing.
Dress models with a thin belt or belt with an "apple" figure are categorically inappropriate. In such outfits full waist will be delineated even more.